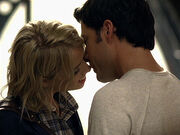 "
Your Time Is Gonna Come
" is the season premiere and the first episode of the fourth of 
Instant Star
. It premiered on Canada on June 8, 2008, and in US on June 2, 2008.
Jude has everything she wants but when she realizes how many have come before her, will she be enough for Tommy?
Guest Star
Edit
Clé Bennett as Thurman
Ian Blackwood as Kyle Robbins
Christopher Gaudet as Wally Bateman
Kristi Angus as Cassandra
Alyssa Gagne as Young Jude
Heather Hodgson

as Hot Mama
Jennifer Ricci as Pink Hat
Nenna Abuwa as Noelle
Jamie Holmes as Sasha
Haley Shannon as Lindy
Jude: (voiceover) Who am I to fight destiny? Especially when it looks like this, and feels like this.
The song "There's Us", from season 2, can be heard in this episode.
The song "Don't You Dare" from season 3 can be heard in this episode.
"Your Time Is Gonna Come" is a song by Led Zeppelin.
In the States on The-N, this episode aired on June 2, 2008.
Alexz has a new haircut this season, with her hair being much shorter than we've seen before.
Featured song: "Ultraviolet" by Alexz Johnson.