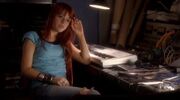 "
You Can't Always Get What You Want
" is the fifth episode of the firts season of 
Instant Star
. It premiered on Canada on February 13, 2005, and in US on July 22, 2005.
Jude's finally starting to feel comfortable at G Major -- and more than comfortable with Tommy -- when her world and her producer are yanked out from under her, thanks to the arrival of seventeen year-old hip-hop sensation Shay. But Jude's determined not to give up her musical territory without a fight. When Jude goes too far and is forced to apologize at Shay's big concert, she's shocked when her would-be enemy serenades her with a love song. After all, she'd NEVER fall for such a spoiled, arrogant jerk…would she?
Guest Star
Edit
Jude: Once upon a time, there was a punk princess who rocked a musical kingdom. She kinda dug its blue eyed prince. And then the emperor of hip-hop invaded. And took the one thing she most wanted. The princess wanted back what was rightfully hers, the palace, the pro-tools, and her prince. But this wasn't fantasy, this was reality, and the princess realized it bites.
Jude and Shay's accidental mash up is a reference to the video for "Walk This Way" by Run DMC and Aersosmith.
Shay: It's Avril meets more Avril.Shay is comparing Jude's demo with Canadian singer Avril Lavigne.
"You Can't Always Get What You Want" is a song by The Rolling Stones.
The-N's Tagline: Jude loses Tommy to Shay. Jude loses her cool over her new love interest. Tommy has much to lose.
In the States on The-N, this episode aired on July 22, 2005.
Alexz Johnson's featured song: "Waste My Time."