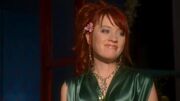 "
Unsweet Sixteen
" is the eigth episode of the first season 
first season
of 
Instant Star
. It premiered on Canada on March 13, 2005, and in US on August 12, 2005.
It's Jude's 16th birthday and G Major is planning the birthday party of a lifetime. Jude is so excited, I mean what could possibly go wrong? But when she overhears someone's love confession and discovers what Shay has been up to while he's been on tour, her birthday is about to turn into a huge disaster. And when she has an intimate moment with someone, the night has completely gone messy, ending in Jude having her heart broken by two different guys.
Guest Star
Edit
Jude: (voiceover) They say the way you spend your birthday sets the tone for your entire year. I'd say I'm off to a great start.
When Jude is on the stage and the paparazzi take pictures of her, we can see that she has a flower in her hair. But when she turns, it disappears and reappears several times.
"Unsweet Sixteen" is a song by Wakefield.
The-N's Tagline: Jude turns sweet sixteen. But not all birthday wishes come true.
In the States on The-N, this episode aired on August 12, 2005.
Alexz Johnson's featured song: "Time To Be Your 21."