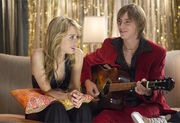 "
Stranger In The House
" is the seventh episode of the second season of 
Instant Star
. It premiered on Canada on August 22, 2006, and in US on April 7, 2006.
Sadie's relationship with Tommy is on the rocks because of his lies. Jude initially tries to patch things up between the two but then has second thoughts. Jude and Sadie decide to throw a party. Jamie sees another side to Liam after he starts working with Patsy in the studio.
Guest Star
Edit
Jude: (voiceover) Some things just go together: Sid and Nancy, peanut butter and jam, Sadie and musical theater. Ok, maybe not that last one. Other things that go together lately, people I love and the lies I tell to keep them happy.
"Stranger in the House" is a song by Rick Springfield.
In the States on The-N, this episode aired on April 7, 2006. It aired as a one hour special with "Personality Crisis."
Alexz Johnson's featured song: "Natural Disaster."