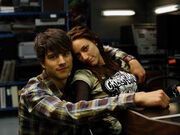 "
Start Me Up
" is the season premiere and the third episode of the 
Third Season
 of 
Instant Star
. It premiered on Canada on July 15, 2007, and in US on February 23, 2007.
Jude has to deal with the aftermath of her breast being shown to the public, just as she learns that not only will Karma be doing a cover of her song "Waste My Time" but that Tommy will be producing her album.
Guest Star
Edit
Jude: Ever enter a room and get the feeling that everyone just been talking about you? Or at least part of you?
IAlthough performed by Tyler Kyte on the official soundtrack, "Worth Waiting For" is performed by Alexz Johnson in the episode.
"Start Me Up" is a song by The Rolling Stones.
In the States on The-N, this episode aired on February 23, 2007.
Featured song: "Worth Waiting For" by Tyler Kyte.