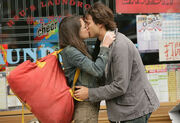 "
Possession
" is the ninth episode of the 
fourth season of
Instant Star
. It premiered on Canada on August 3, 2008, and in US on June 18, 2008.
Tommy returns and Megan tries to help Jude get over him; Blu and Zeppelin come to slaps over Jamie; Tommy is assigned to produce Karma and Speed's tv theme song.
Guest Star
Edit
Jude: (voiceover) All good fairy tales have to end. And most fairy tales have a happily ever after kind of ending, marked by the return of the gallant prince. But in my fairy tale there's no glass slipper, no god mother, no mice... Just me, wishing I could turn into a pumpkin.
"Possession" is a song by Sarah McLachlan, Bad English, and R&B Trio Body.
"I'm Jude Harrison and I'm a Tommy-holic." Jude uses the same format here as alcoholics use at AA meetings
.
The name of Jude's third album is "My Turn."
In the States on The N, this episode aired on June 18, 2008.
Featured song: Higher Ground by Alexz Johnson.