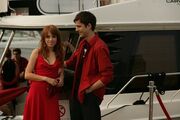 "
No Sleep Til Brooklyn, Part 1
" is the season premire and the first episode of the 
second season
 of 
Instant Star
. It premiered on Canada on June 18, 2006, and in US on February 10, 2006.
Jude returns from her summer tour with her backup band Spiederman to find that G Major is being run by Darius Mills and when Jude doesn't play at a showcase the way he wants her to, tension builds. Tommy is trying to do the best he can to please Darius, so he doesn't have time to hang out with Sadie when she comes back from Europe
Guest Star
Edit
Jude: Summer jobs are a right of passage. And this year, I kind of got the best one. I became musical super girl and flew through every summer night. Living a life that would make most mothers weep. Three trusty boy sidekicks, no chores, and a bus full of empty calories. When it was quiet, musical super girl just plain couldn't believe her luck. Because most girls would love this job. Most girls would never want to come home. But they'd be wrong, because coming home was the sweetest part of all.
Season 2 episodes were seen on The-N before the CTV ones. This is a first for Instant Star.
"No Sleep 'Til Brooklyn" is a song by The Beastie Boys.
Alexz Johnson's featured songs: "My Sweet Time" and "Stupid Girl."
As of season 1season 1 , Instant Star is now seen in over 121 countries.
In the States on The-N, this episode aired on February 10, 2006.
Georgia (Tracy Waterhouse) and EJ (Andrea Lui) are not back for season 2, they are no longer series regular.
This is the first two-part episode of the series.
Season 2 of Instant Star began filming on June 27, 2005.