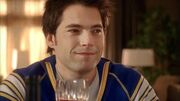 "
I Wanna Be Your Boyfriend
" is the seventh episode of the first season of 
Instant Star
. It premiered on Canada on March 6, 2005, and in US on August 5, 2005.
Now that Shay and Jude are an official couple, Jude wants to share him with the rest of the world. So she invites him to the school dance and to have dinner with her family. But things take and awkward twist when Tommy shows up to prove to Jude that Shay is not the guy she thinks he is. Sadie invites him to join them for dinner, Tommy mentions the 3 month world tour that Shay has, and now Jude is having some doubts. What's the #1 rule on the road? And is Shay willing to stick to that, or will he stay true to Jude?
Guest Star
Edit
Matthew Brown as Shay
Aleha Morrison as Vanessa
Shawn Singleton as T-Bone
Jude: I Lately, my life is like a really cool puzzle: School, home, the album, Tommy, and now, Shay. All these different pieces that I have to keep together. Problem is, some of the pieces just refuse to fit.
"I Wanna Be Your Boyfriend" is a song by The Ramones.
The-N's Tagline: It's the war of the boy divas. Shay goes global. Can Jude handle the rules of the road?
In the States on The-N, this episode aired on August 5, 2005.
Alexz Johnson's featured song: "Your Eyes."