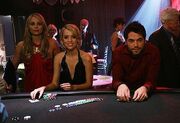 "
Every Breath You Take
" is the tenth episode of the 
fourth season of
Instant Star
. It premiered on Canada on August 10, 2008, and in US on June 19, 2008.
Tommy and Jude play poker to decide who gets what in their break up. Karma's reality show debuts - with her as the villain. She decides to find another villain even if she must frame them.
Guest Star
Edit
Jude: (voiceover) They say fame is like a drug, one taste and you're hooked... When it comes to celebrity cravings, nobody has a more addictive personality than Karma... But there's no one less impressed by fame than Karma's husband, he just wants to keep his wife happy.
"Every Breath You Take" is a song by The Police.
We are reminded that Jude is bad at math, referencing that she failed math class in high school.
In the States on The N, this episode aired on June 19, 2008.
Featured song : Ghost Of Mine by Cory Lee.