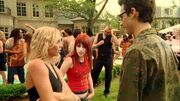 "
Come As You Are
" is the second episode of season one of 
Instant Star
. It premiered on Canada on September 15, 2004, and in US on July 1, 2005 as a two part episode with the season premiere.
Jude loses the cover of a magazine by  Darius, a famous hip hop producer, to Eden a.k.a. the beach blonde she-devil who she beat in the Instant Star competition. Now she and Tommy must go to Darius' party to impress him and prove to him that Jude belongs on the cover of his magazine, not Eden. Eden insults Jude and Sadie sticks up for Jude and fights Eden, resulting in the three girls falling the pool. After all that mishap, it seems likely that Jude lost the cover, but an unlikely person sees something in her and it ultimately saves the day.
Guest Star
Edit
Wes Williams as Darius Mills (as Wes 'Maestro' Williams)
Miku Graham as Portia Quincy
Katrina Matthews as Eden Taylor
The Salads as Themselves
David Brown as Science Teacher
Billy MacLellan

as Photographer
Rachel Puchkoff

as High School Student
Jude: You're just jealous because now I'm getting all the attention. That's sad. Sadie: You know what's sad? Jude: What? Sadie: What you're becoming. You're treating me like your servant. You're forgetting your friends. Jude: That's not true.
At the point during the party where Sadie is fighting with Eden and Jude is trying to break it up, you can see Alexz plugging her nose just as the three topple over the edge of the pool.
Once again in this epsiode Jude's hair changes different positions several times during one scene.
"Come As You Are" is a song by Nirvana.
It aired on July 1, 2005 on The-N as a one hour episode with "Even Better Than the Real Thing."
The-N's Tagline: Jude Harrison rockets to fame! Making new friends...and new enemies.
In the States on The-N, this episode aired on July 1, 2005.
Alexz Johnson's featured song: "Let Me Fall."
It aired again on January 23, 2005 on CTV as a one hour episode with "Even Better Than The Real Thing."
This show aired as a special sneak peek after Canadian Idol on September 15, 2004.