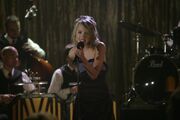 "
18 Part 1
" is the eigth episode of the 
Third Season
  of 
Instant Star
. It premiered on Canada on August 5, 2007, and in US on April 6, 2007.
Jude's turning 18; Tommy loves her; life is good. So why won't he let her sing about him on stage at her birthday party? And who's the mysterious dude from Tommy's past that's making him flip out? Jude's 18 now, why isn't everything instantly perfect?!?! Things aren't perfect for Sadie either, and she's wondering if Kwest is the right guy for her. She might doubt it so much that she'll never find out.
Guest Star
Edit
Jude: (voiceover) Eighteen is big. By the time he was 18, Mozart had already toured Europe, written his first opera and composed symphony no. 1. By 18, Stevie Wonder had mastered 8 instruments, had 4 hits and was composing for Motown. As for my eighteenth birthday, I just wanted everything to be right...
"Blooming 18" is a song by Ace Of Base
.
In the States on The-N, this episode aired on April 6, 2007.
Featured song: "Love to Burn" by Cory Lee.
.